Biography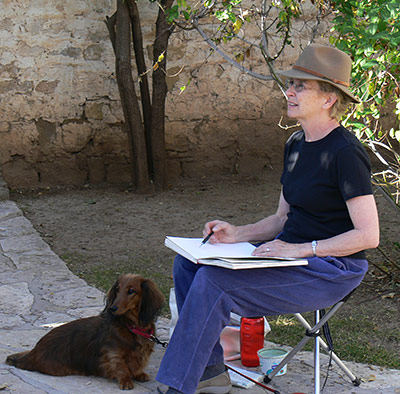 I meld my dual love of art and nature to create watercolor paintings, ceramic tile murals, and artist's books. I begin the creative process by going afield with my nature journal and sketchbooks, directly observing nature in all its variety and surprises. The plein air sketching and writing gives me a true sense of the spirit of a place, in addition to fueling my studio work.
I also enjoy teaching nature journaling workshops – to those that may never become artists, but hopefully become more aware inhabitants of the world. Teaching nature journaling refreshes my own passion for the practice, not just the "how-to" but the "why."
I may use the field sketches as catalyst for further exploration in the studio. I choose the medium and technique that best expresses my feelings for the subject: The flowing qualities of watercolor and ink lend themselves to luminous effects. Graphite or silverpoint lines are suited for a fine detailed drawing and textural effects. The rich colors and glistening surface of ceramic tiles are suitable for public art or residential commissions where durability is a factor. I bring my love of the natural world to all of these projects.
I received my BFA in art education at the University of Arizona, and have lived in New Mexico for 40 years. In addition to exhibiting my original fine art throughout the U.S., I have illustrated several books, been included in public art collections, and provided artwork for museum exhibits. Nineteen of my watercolors illustrate Bearing Witness: 25 years of Refuge which won the 2008 New Mexico Book Award for nature. (Contact margy@margyobrien.com for purchase information).
Margy O'Brien is a member of the Tile Heritage Foundation, Plein Air Painters of New Mexico, LIBROS, and a Signature member of the New Mexico Watercolor Society.